TUNER DVB-T2 HEVC DECODER Deko TV PRO2 2USB DekoTV
Digital terrestrial TV decoder in new version – Deko TV Pro2
The Deko TV Pro2 decoder receives all available channels of the new DVB-T2 HEVC broadcast standard.
Deko TV Pro2's sensitive HEVC head will provide high-end reception of channels without interference and snow in FullHD resolution!

What sets the Deko TV Pro2 apart?
✅ 1.5m HDMI cable included.
✅ 1.5m power cable included.
✅ Metal housing
✅ 2x USB port – one on the front, the other on the back of the decoder.
✅ Deko TV remote control with pairing function.
✅ A sensitive head that allows you to enjoy all available channels.
✅ All included. Decoder, HDMI cable (1.5m), batteries (x2), remote control with pairing function, power cable 1.5m.
✅ Stable software that is updated.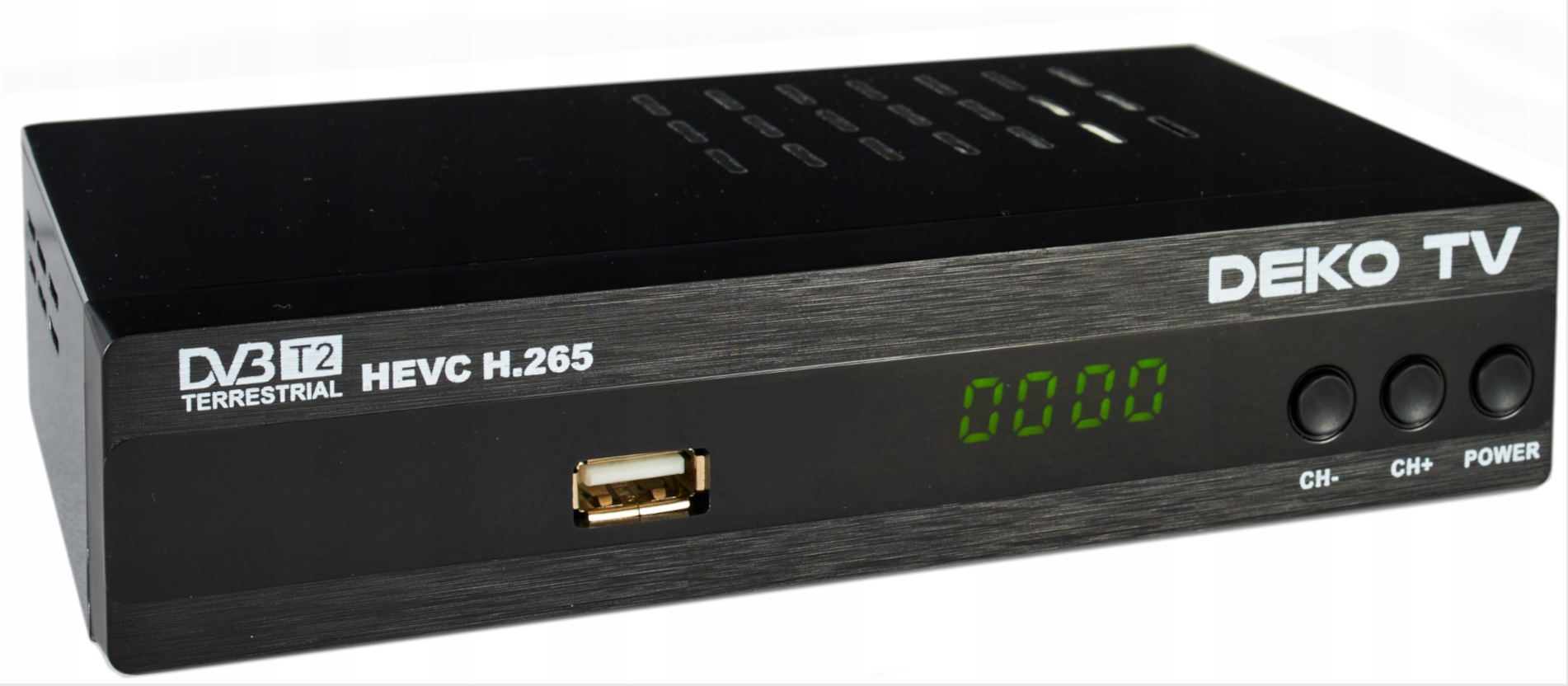 Deko TV Pro2 allows you to receive channels after changing the signal.
✅ Receives all digital TV channels in the new and old DVB-T/T2 HEVC standard .
⚠️Odbiera also Polsat News channel Events24 , which is not received by tuners without 10-bit encoding.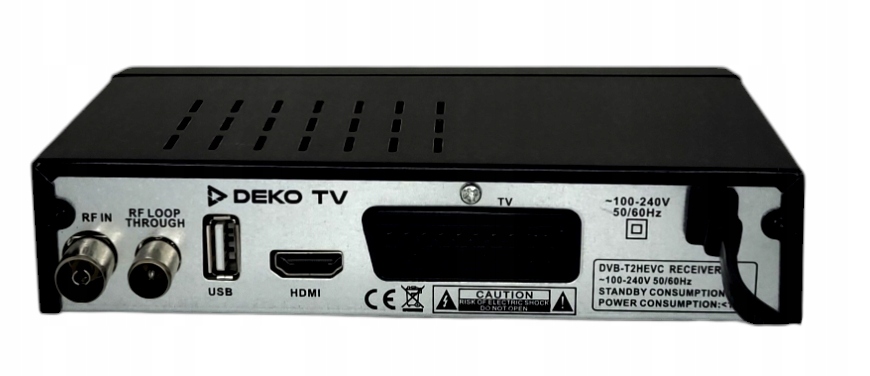 Deko TV new generation decoder
✅ The decoder operates with H.265/HEVC video , MPEG-2 Audio Layer 2 audio and Dolby E-AC-3/Dolby Digital Plus standards
✅ Highest quality reception of new channels on your current antenna with the highly sensitive Deko TV DVB-T2 HEVC head unit
✅ HDMI cable (1.5m) and power cable in box – ready-to-connect product at no extra cost
✅ Supports older and newer generations of TVs with HDMI and SCART (Euro) connectors – use your current TV and receive a new signal
✅ Convenient and handy universal remote control for controlling both the decoder and the TV with an extended range of up to 15 meters
✅ Display with adjustable brightness in on and standby mode and buttons on the front of the device along with a USB connector
✅ S econd USB port available on the back of the decoder
✅ Best components – will ensure long life and excellent signal reception without interference
✅ Additional features like program recording , live TV scrolling, YouTube, weatherman and more
✅ IPTV Internet TV so you can watch additional channels over the Internet, such as BBC, regional TV and others.
✅ Easy to use – plug and play at no extra cost – full wiring included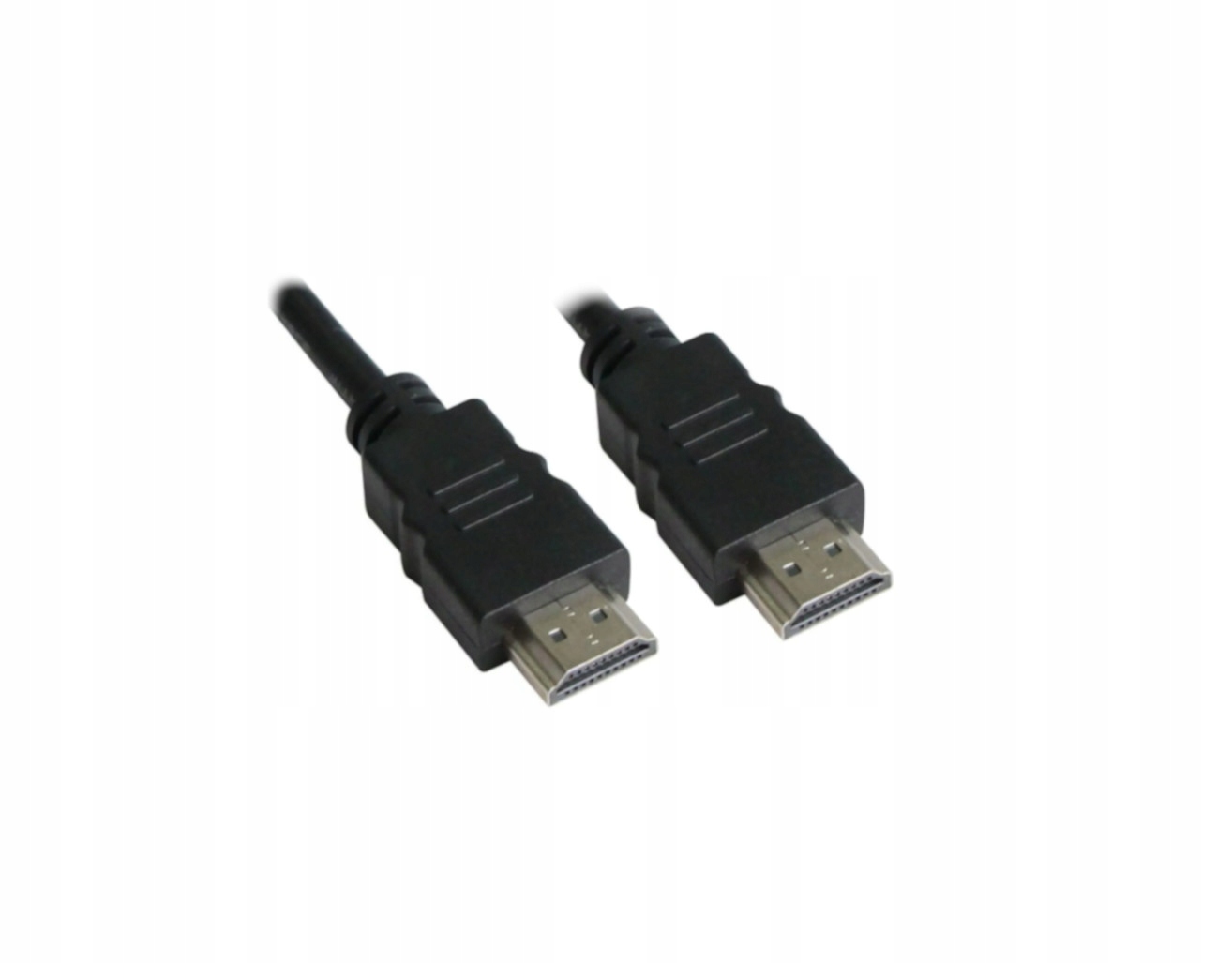 HDMI cable included
✅The only such decoder with HDMI cable included (1.5m)! Save up to tens of zlotys on the purchase of an HDMI cable that comes in the box of Deko TV.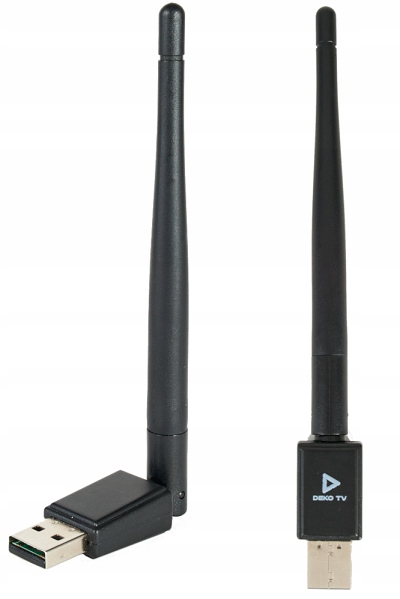 Available extension
USB Wi-Fi Antenna
✅Connect Deko TV to your home Wi-Fi network and enjoy additional YouTube, weatherman and IPTV applications .
✅IPTV provides additional free channels from the Internet.

Compatible with the new channel broadcasting system
DVB-T2 HEVC H.265
✅ You do not need to replace the antenna you are currently using. All you need is a Deko TV decoder to enjoy the highest quality of the new DVB-T2 HEVC standard channels.
Versatility and economy
✅ The decoder is equipped with HDMI and SCART connectors, with which you will connect any TV set regardless of whether it is an older or newer generation. Save on buying a new TV and connect the Deko TV Pro2 decoder to your current TV and enjoy the new quality of TV in the new broadcasting standard.

One remote control instead of two
Universal remote control
✅ Allows you to control your current TV as well as your set-top box with IR pairing.
✅ With this, you can, for example, turn the TV and Decoder on and off from one remote control so you only need the Deko TV remote to control both devices.
✅ Up to 5 buttons can be programmed from another remote control.
Increased range
✅ The Deko TV remote control has a wide operating range of up to 15 meters from the decoder.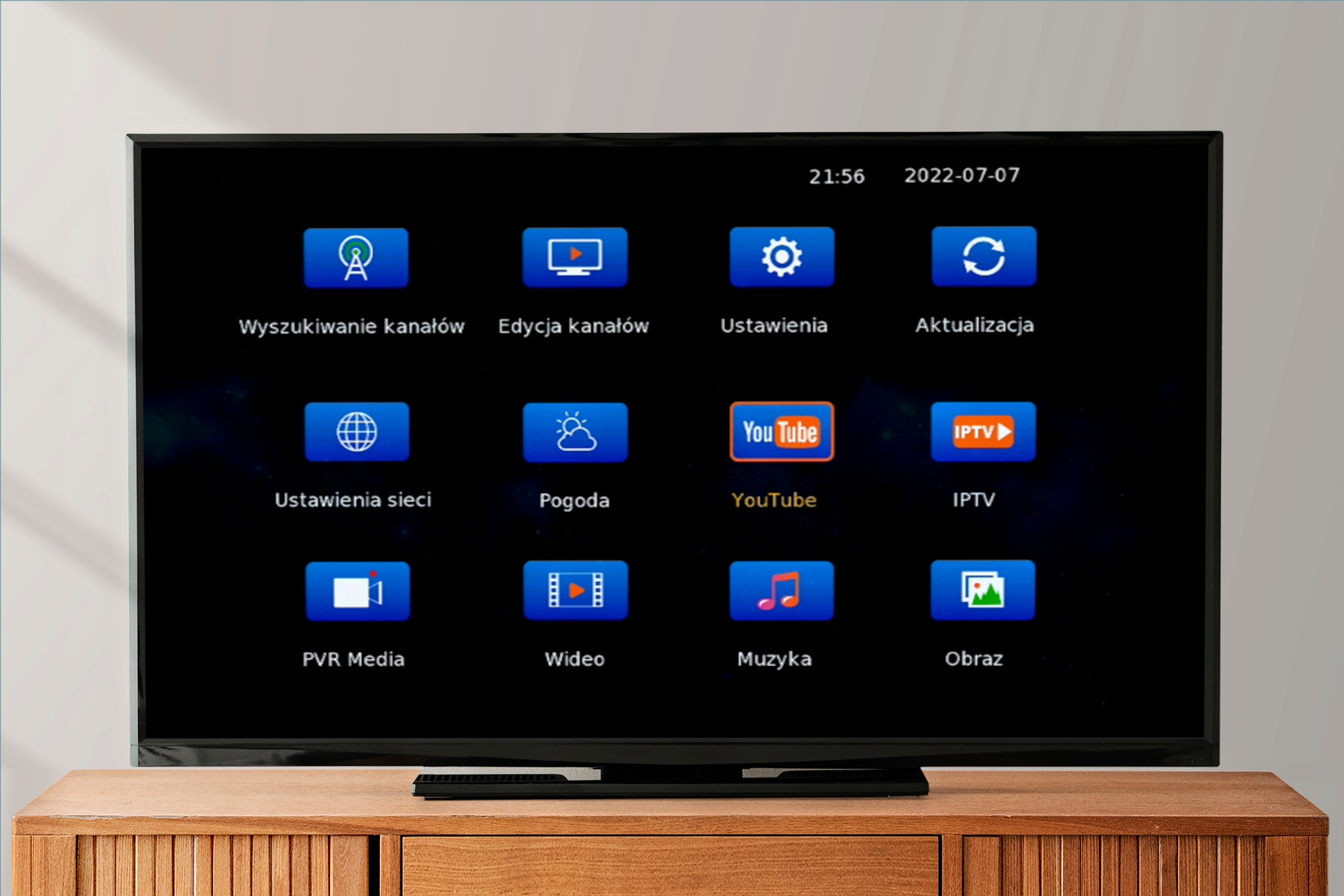 Channel Recording (PVR)
✅Schedule the recording of content from a specific channel!
You don't have to be at home to watch your favorite shows, series and sports events.
Set your schedule and the Deko TV decoder will make sure you don't miss a moment from your favorite show.
✅ Conveniently readable recording format with the name of the recorded program and channel , as well as the date and time of the recording, e.g., "The name of the recorded program and channel ". Cops – Polsat – time and date of recording (software update required)
Live scrolling (TimeShift)
✅Scroll content from channels displayed live.
Did you miss something interesting while watching TV? Now you can live scroll through TV shows so that you don't miss any content shown in your favorite programs.
Channel Guide (EPG)
✅Don't forget any event.
Browse the content currently shown on the channels and check out what is scheduled with the electronic program guide. Don't forget your favorite movies, series or sporting events!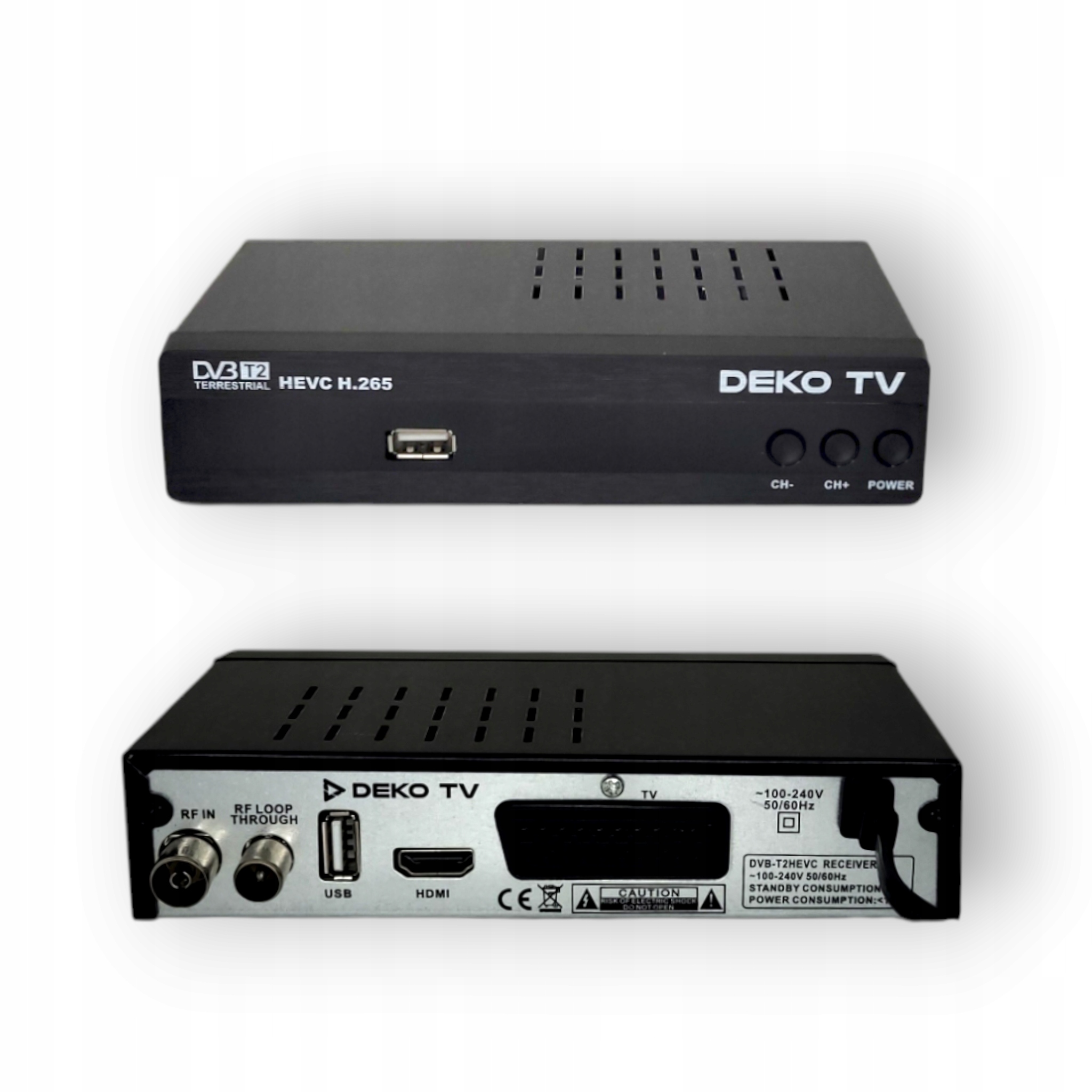 2x USB and multimedia support
✅2x USB port – front and back
With two USB ports, you can simultaneously have your WiFi antenna plugged in, as well as videos and photos from your own USB drives.
✅YouTube app and IPTV.
Play content from the built-in YouTube app and IPTV and watch your favorite movies, music videos and additional free channels.
✅Playing movies from USB
Do you have videos and photos on various USB drives?
Play them on your TV with Deko TV, also with support for Polish subtitles or voiceover.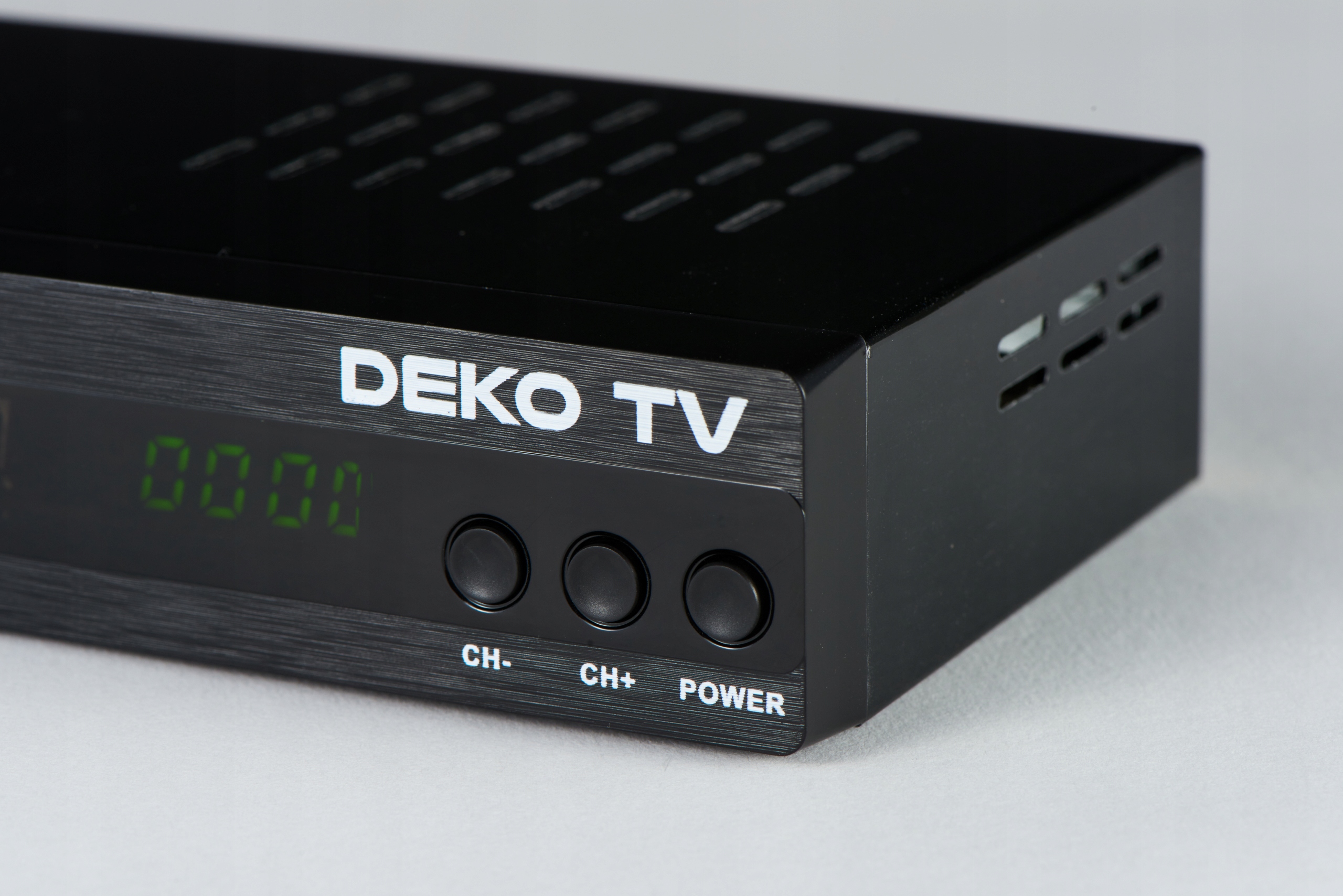 We take care of the details
✅The brushed steel effect will provide a unique look, and the easy-access USB port located on the front of the device is at your disposal when you need it, such as connecting a flash drive or an external WiFi adapter available from us.
In addition, you can use the handy buttons on the decoder control panel located on the front of the device for your convenience.
Adjustable display brightness
Freely set the brightness of the display
✅ In on mode, it displays the channel number, and during standby, when not watching TV, the current time.
✅ The brightness of the display is adjusted in the on and standby modes so that the display does not shine too brightly during the night.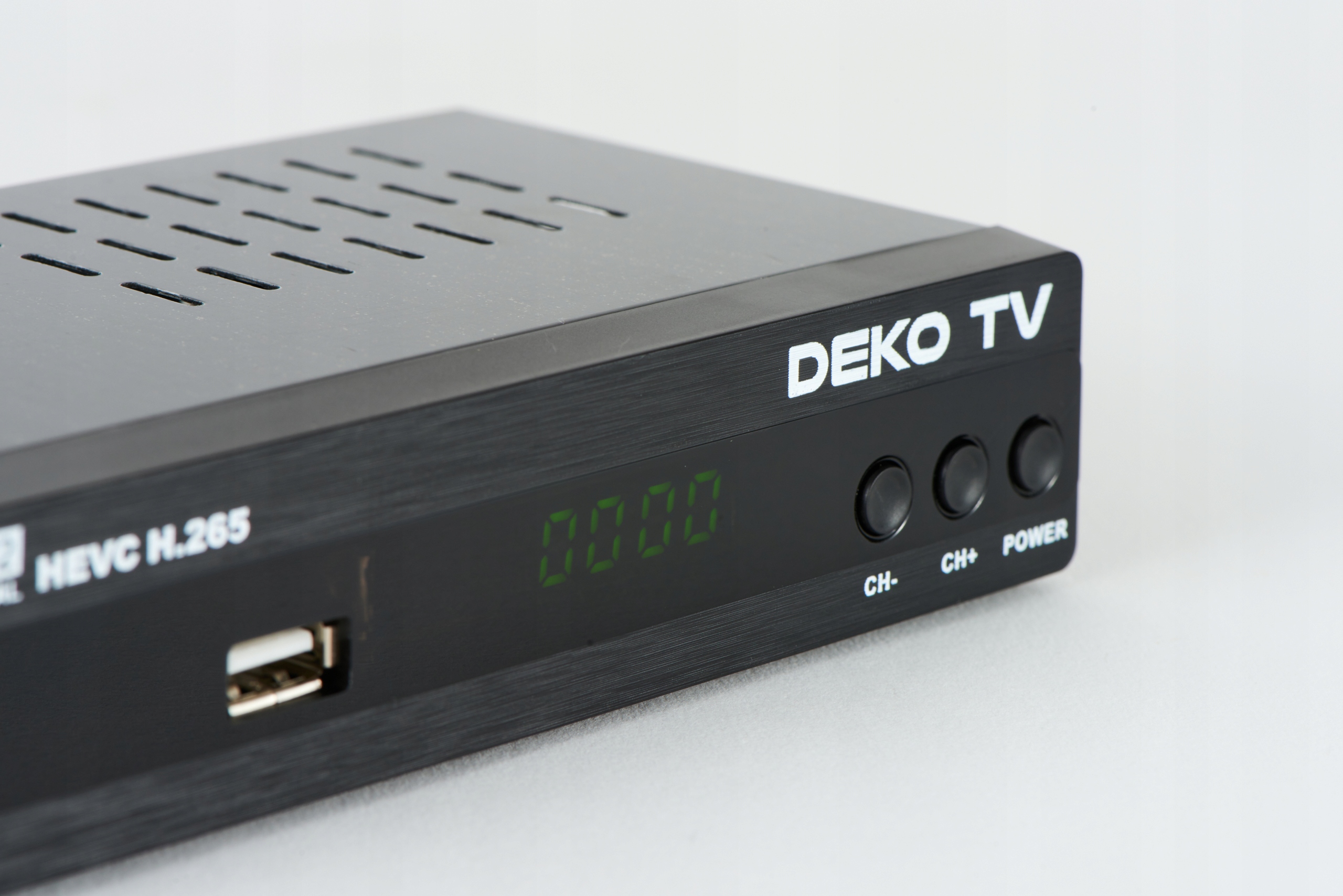 Choose your language
Operate your decoder in your language – including Polish.
✅The decoder supports all broadcast audio tracks, so you can watch movies with a voiceover or in the original language track, such as English with Polish subtitles.
✅Watch your favorite movies and shows in the language you want!
Contents of the box
✅Deko TV Pro2 DVB-T2 H.265/HEVC decoder
✅Pilot with IR Memory function (15m range).
✅HDMI cable (1.5m long)
✅Batteries for remote control (2x)
✅Instruction in Polish, English, Italian, German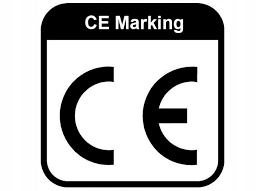 Certified safety
✅Certificate CE
✅EEE certification
✅RoHS certification
TECHNICAL SPECIFICATIONS AND FEATURES
Long power cable – 1.5m long
FHD (FULL HD) image quality
One remote control to operate both the tuner and your current TV
Receiver compatible with second-generation DVB-T/T2 HEVC and first-generation DVB-T/T2 H.264 and DVB-C standards for cable TV
Full HD high definition (High Definition) channel reception in 8-bit and 10-bit formats for reception of all available channels
Youtube, IPTV and weather app
TIMESHIFT function – stop and rewind the image
Ability to record programs on a flash drive and hard drive
Play videos from flash drives and hard drives
PVR function with programming of recordings
2x USB socket (front and back) for connecting external storage media and WiFi antenna simultaneously
Support for Dolby Digital Plus digital audio compression method
Supports teletext, subtitles and electronic program guide (EPG)
Video formats played: HEVC (H.265/MPEG-H), MKV, H.264/AVC, AVI, XVID, MPEG-4, TS, TP, TPR, M2TS, MPEG, MPE, MP4, MOV, VOB, 3GP, DIVX, FLV
Subtitles: Polish.TXT subtitles (all formats) SRT, SUB, ASS, SSA, SAM
Audio formats played: HEVC, MPEGI/II, MP3, Dolby Digital Plus, MPEG4 AAC, HE-AAC, MPEG-2 Audio Layer 2 and Dolby E-AC-3
Photos: JPEG, BMP, PNG
Supported resolutions: 1080p, 1080i, 720p, 576p
USB: 2x USB 2.0, support for FAT32 and NTFS flash drives and USB hard drives
HDMI connector: HDMI (version 1.4)
Video/audio output: HDMI – digital and SCART – analog
Support for WiFi adapters (to be purchased separately)
External dimensions (W/D/H): 168x84x36 mm